A Design and Build Journal of How I Built my Tiny Teardrop Trailer
© 2004, 2005, 2006, 2007 by Man of the Cloth Productions
Cabin Details
I finished the interior cabin by fitting the final "custom" pieces of the cabin ceiling and wall. This is just another way of saying that nothing was square where the ceiling and the back wall of the shelf came together. I cut out a circle to match the cabin exhaust fan. After I coated the back wall with two coats of shellac, I mounted the fan in place.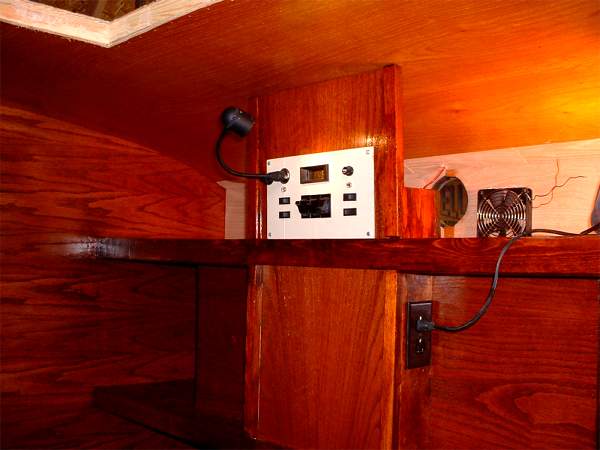 The picture below shows how I finished the top shelf in the cabin.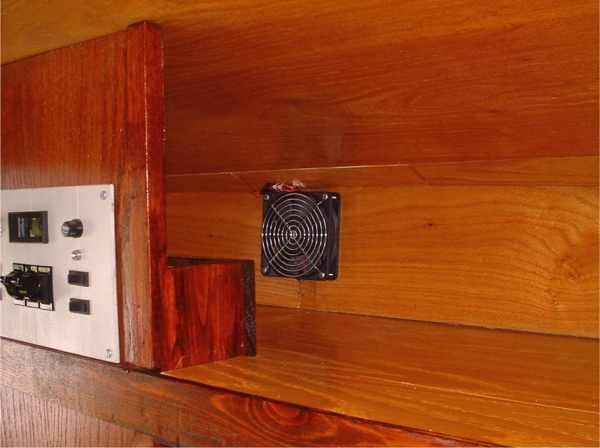 The fan was a 12 volt DC low amp, high cubic ft / minute computer fan I salvaged. When operating it draws air in from the roof vent and windows. If I ever decide to add air conditioning, I will place the unit on the floor of the galley and attach a flex hose to this cabin fan. I will reverse the fan flow in that application. One section of the top shelving can be lifted out for access to the electrical chase that is underneath.
I made the meter/switch panel so I could remove it and work on the circuits on the back. The wood frame protects the back of the panel and the wire connections from items shoved onto the shelf.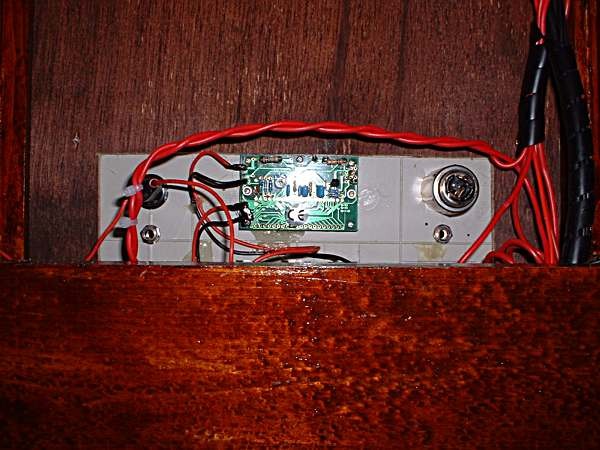 The photo above shows some of the layout of the back of the control panel.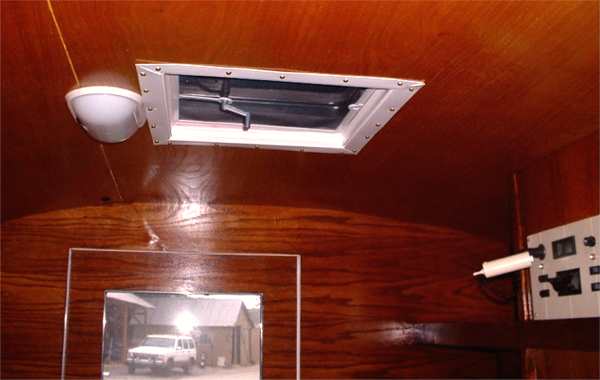 I made trim pieces from salvaged vinyl. I used these to finish the roof vent installation. The photo on the right shows the overhead cabin light. This particular cabin light had two bulbs. I rewired the light so one switch turned on one bulb and the other switch controlled the second overhead bulb. I installed one switch above each door.
The photo above shows the layout of the front shelf and one of the reading lights during construction. The photos below show how it looks now that I camp in it. The shelf is very useful as an overnight place for my glasses, a book or a glass of water.
This photo shows how I took a hymnal rack from the back of an old church pew and made a nice book holder for night time reading.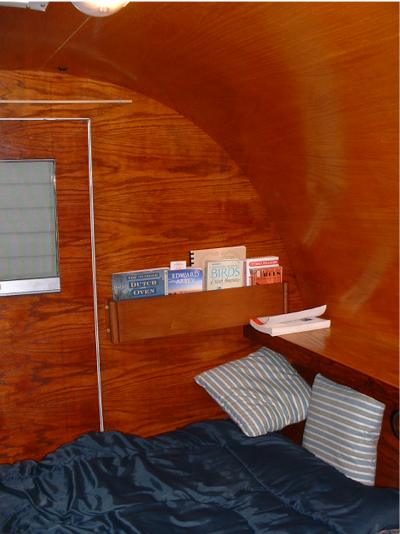 To keep cool on stuffy nights I made a "screen door" by sewing a pocket hem in the top of a piece of loose fabric. I tuck the bottom edge under the mattress and the bugs stay out but the breeze flows through.
Inside, I used a small dowel rod to hold up the curtain.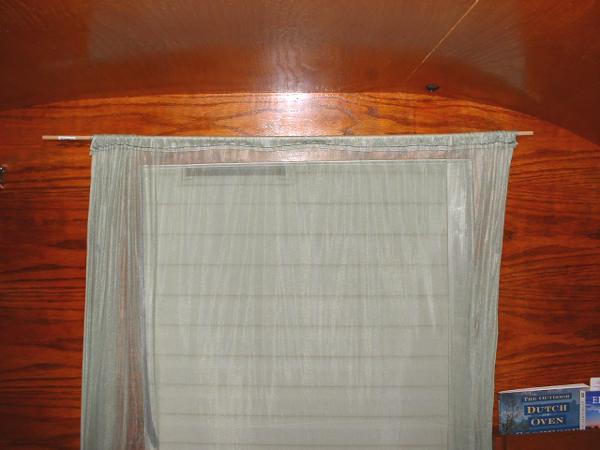 When not in use this is how I store the "screen door." It is simple, but it works and doesn't get in the way or add much weight to the trailer.
After using the trailer, I found that there is plenty of room under the cabin shelves for my feet and under the headboard shelf for my head. I haven't felt sleeping in the Zephyr confining in any way. There is plenty of room for two.
.Please visit this sponsor