A Design and Build Journal of How I Built my Tiny Teardrop Trailer
© 2004, 2005, 2006 , 2007 by Man of the Cloth Productions
Specifications
Trailer chassis as shipped:
Built by Changzhou Naxiashu Tool Factory, China.
Distributed by Harbor Freight Tools in the USA. www.harborfreight.com
GVWR: 1180 lbs.
GAWR: 1180 lbs.
Tires: 4.80-8 at 60 psi
Rims: 3.75Jx8
Shipping Weight: 197 lbs.
Ball Size: 1 7/8"
Bed Frame Dimensions: 4 x 8'
Highway Clearance Lights: DOT approved included
Wire Harness: Included with 4 pin connector for 12 v DC system
Following factory directions, this trailer conformed to all applicable Federal motor
vehicle safety standards in effect as of date of manufacture on 05/2004.
The Zephyr as built:
Overall Dimensions: 67" Wide, 12' Long, 6' High
Max. Height for clearance at Roof Vent: 6'4"
Interior Cabin Dimensions: Deck 54 ¾" x 76"; Cabin Height 48"
Storage Well: 3' x 2'x 7"
12 Volt DC Electrical System: 12 Volt Deep Cycle Battery; AC-DC Power Converter
Highway Upgrade:
Added one pair of red clearance lights for greater side visibility.
Raised amber clearance lights from frame to side the wall of the trailer.
Added wooden "bumper" to back of trailer frame.
Tire Upgrade: Carlisle Tire 5.7- 8 purchased from Tractor Supply Company
Max. Individual Tire Load: 716 lbs at 50 psi cold
Zephyr Weight: 1,100 lbs. (certified commercial scale). Tongue Weight: 105 lbs.
I hope the day never comes when OSHA regulates safety warnings in a Teardrop to protect America as it has fun camping. If that day comes my tiny trailer might look like this. How would I ever find the doors without a sign like this?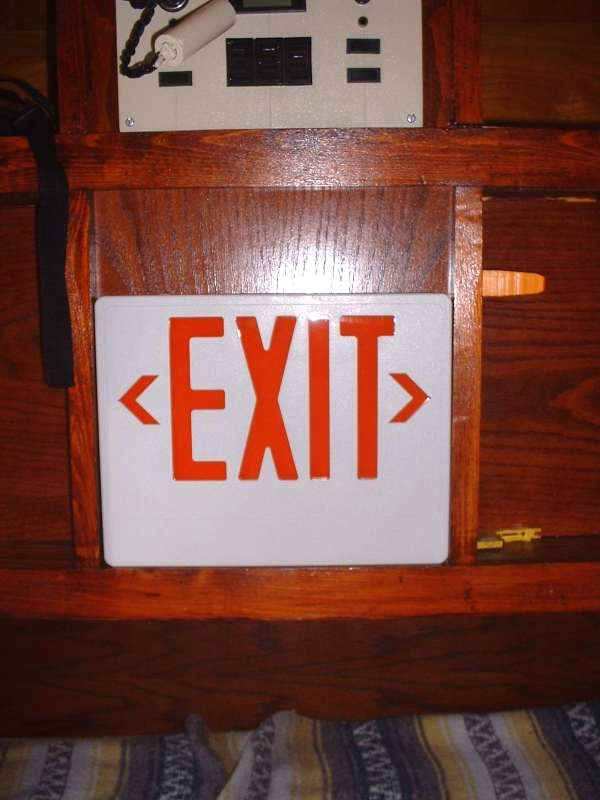 Please visit this sponsor

.